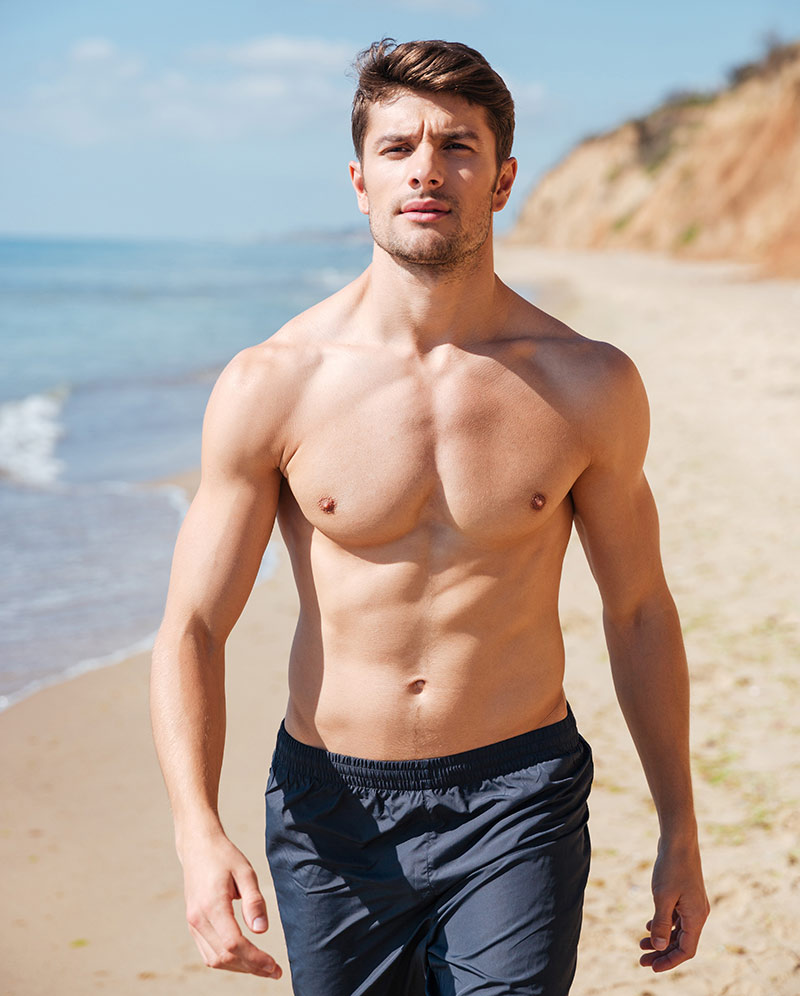 Why Choose Torsoplasty Surgery?
For many men, the reduction of their gynecomastia is their major and solitary goal. Oftentimes, however, once their chest has healed, these same men will begin to look at their abdomen and hip rolls (love handles) and note a disparity between their newly sculpted chest and their softer, rounder middle. They wonder if anything can be done to help and whether they could have done something all at once instead of in two separate operations.
Many patients will diet and exercise after gynecomastia surgery and improve their overall shape. Unfortunately, losing weight is dictated by one's own body and not by one's will. One cannot target the areas of desired weight loss. When weight is gained in men, it usually goes to three areas first: the chest, the abdomen, and the love handles.
As weight further increases, other parts of the body gain fat, including the face, neck, back, arms, and thighs. When weight is lost, the last areas to lose fat are the chest, the abdomen and the love handles – decidedly unfair! Fortunately, liposuction can target specific parts of the body and is often used to improve these same areas.
What to Expect During Your Initial Torsoplasty Consultation
As a first step in a torso "makeover," Dr. Jacobs will plan to use one or more surgical techniques to correct any remaining gynecomastia and improve the appearance of your chest area. In cases where the breast tissue was not sufficiently reduced during a first surgery, he may remove the excess tissue through surgical excision or liposuction of the chest area.
Incisions are typically concealed in the lower half of the nipple area. If complaints include uneven skin texture or irregular deposits of fat, Dr. Jacobs will work to address these during the surgery as well.
He will then evaluate the rest of your upper body, including possible fat deposits near the armpits and love handles, and create a plan to sculpt a cohesive whole.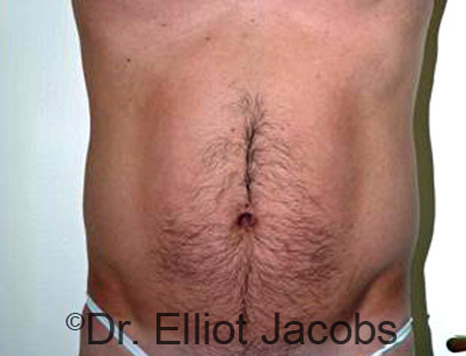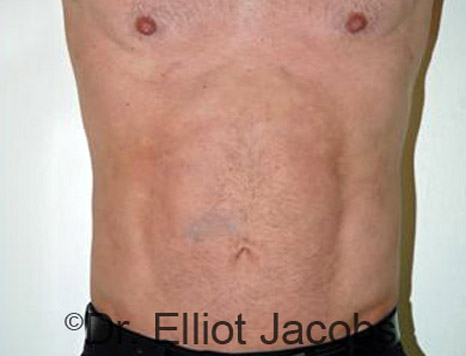 Dr. Jacobs' Torsoplasty Procedure and Technique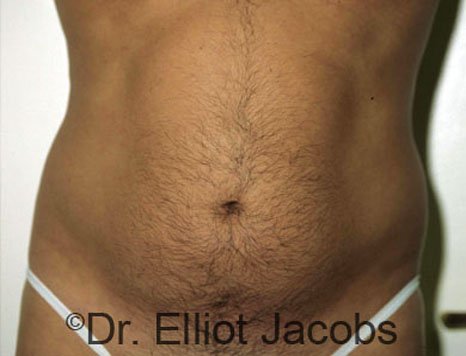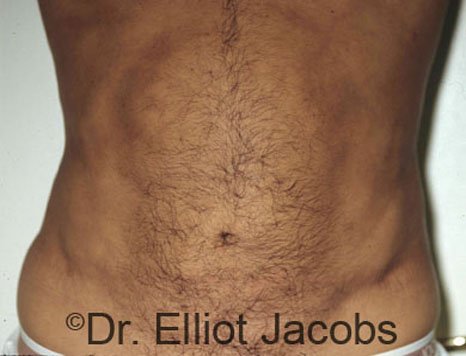 Photographs are taken immediately before surgery. Dr. Jacobs will use a surgical pen to mark all the areas to be treated on your body. You will then be taken to the operating room and prepared for your torsoplasty. "Twilight anesthesia" will be administered and you will drift off to sleep. The chest is treated first – please see a complete description of this operation in the "Gynecomastia" section of this website.
Next, attention is directed to the abdomen and love handles. Initially, a local anesthetic will be injected. Five tiny nicks in the skin are made: one is located inside the upper lip of the belly button while the other four are distributed along a low abdominal crease just below the underwear/bathing suit line. Their locations are designed to provide surgical access to all areas while allowing the scars themselves to be easily hidden.
Through these nicks, a tumescent solution is injected. This is a standard solution of additional dilute local anesthetic, dilute adrenaline (which will diminish bleeding), and saline (salt water). The injection of this fluid softens the fat and makes its removal easier and safer.
Then liposuction is performed in all areas. The goal is to provide a thin, uniform "pinch" of skin and fat over all the areas of the abdomen and love handles. Long, slender metal instruments (called "cannulas") are used to dislodge the fat and then the loose fat is removed from the body by a high-powered suction machine. Since the instruments are blunt (the tips resemble the blunt tip of a bullet), major blood vessels and nerves are literally pushed aside during surgery and are therefore preserved in the process. What remains after the fat has been removed looks like a honeycomb or a sponge, with many intact blood vessels, nerves, and fibrous connections running between the deeper tissues and the skin.
Once the torsoplasty is completed, the skin "nicks" are closed with dissolving sutures that do not require removal. A snug compression garment is applied after surgery and is worn day and night (except for bathing) for at least a month (longer would be better). The purpose is to compress the "sponge-like" tissues and thereby prevent fluid accumulation. It also aids in the natural tightening of the skin itself. Drains are very rarely used.
You will then be brought to the recovery room and allowed to gradually awaken over two hours or so. Once you are fully awake, alert, steady on your feet, and have been able to urinate, you will be discharged in the care of another responsible adult. You will receive specific instructions for immediate postoperative care but it is vitally important that you drink lots of fluids during the first 24 – 48 hours after your torsoplasty!
Torsoplasty Results
Beginning several weeks after surgery, the suctioned areas will begin to feel firm and sometimes rock hard. This is the next stage of healing and the firmness will remain for several months, gradually softening as time goes on. You will also note a gradual return of full sensation to the skin – this may also take several months. Gentle massage with moisturizing cream will help at this time. It will take three to six months or more before complete healing has occurred.
It is not unusual for there to be a period of "lumpy-bumpy" feelings on the skin of the abdomen. These represent areas of swelling and early scar tissue alternating with normal tissue. Massage of these areas will improve them over time. Gradually, your new body contour will appear. If your weight remains stable after surgery, the results of your torsoplasty will be permanent. If you should lose additional weight and/or build muscle bulk, the results will improve over time. If you should gain weight, then some of the surgical benefits will be lost.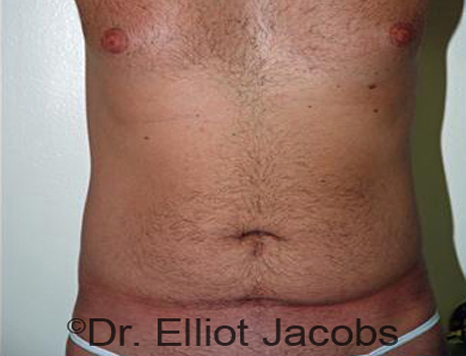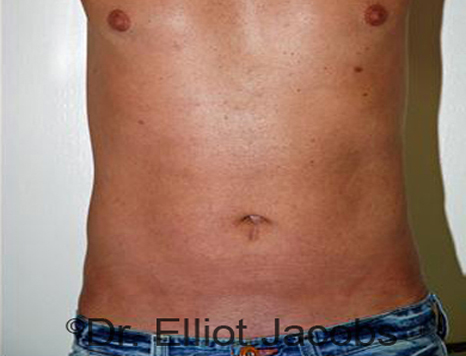 Ideal Candidates for Torsoplasty Surgery
The best candidates for torsoplasty have a BMI (Body Mass Index) ratio of height to weight below 30. In addition, the ideal candidate: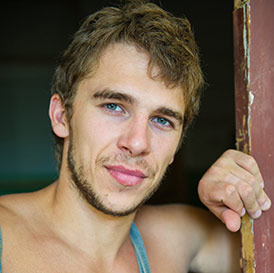 Is in excellent health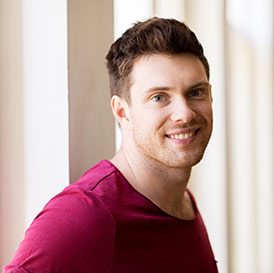 Is a non-smoker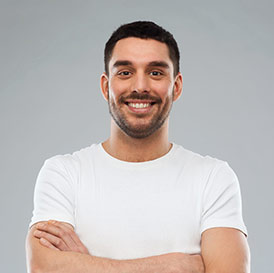 Has limited sun damage to their skin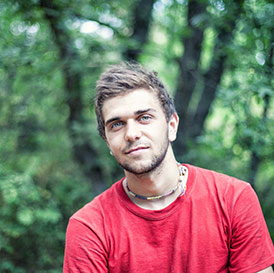 Has never been quite overweight
What to Expect from Recovery
The effects of the local anesthetic will persist for several hours after torsoplasty – so you will be comfortable in the recovery room and for your journey home or to your hotel. These effects will wear off and you will have some discomfort, which will be handled by the pain medication that has been prescribed for you. The feeling has been described as soreness "as if you had just been hit in your chest and also performed 100 straight abdominal crunches." It usually subsides substantially within 48 hours. Dr. Jacobs will personally call you within the first 24 hours after your torsoplasty.
There will also be some swelling, bruising, and numbness of the chest, abdomen, and love handles — these will disappear within a few weeks. You may shower two days after surgery and drive within 3-4 days. Recovery takes about one week although there is considerable healing of your torsoplasty during the ensuing months as well. Sedentary activities can be resumed within a few days after surgery and many patients return to desk-type work in less than a week. All strenuous activities should be avoided for a minimum of three weeks after surgery. A gradual return to full exercise training can begin at four weeks postoperatively.
Dr. Jacobs will schedule several post-operative examinations after your procedure.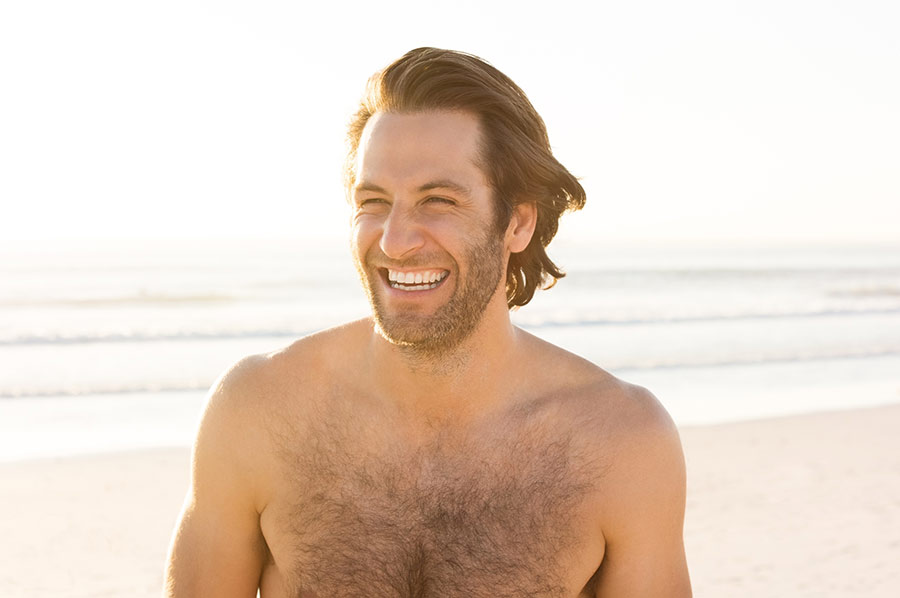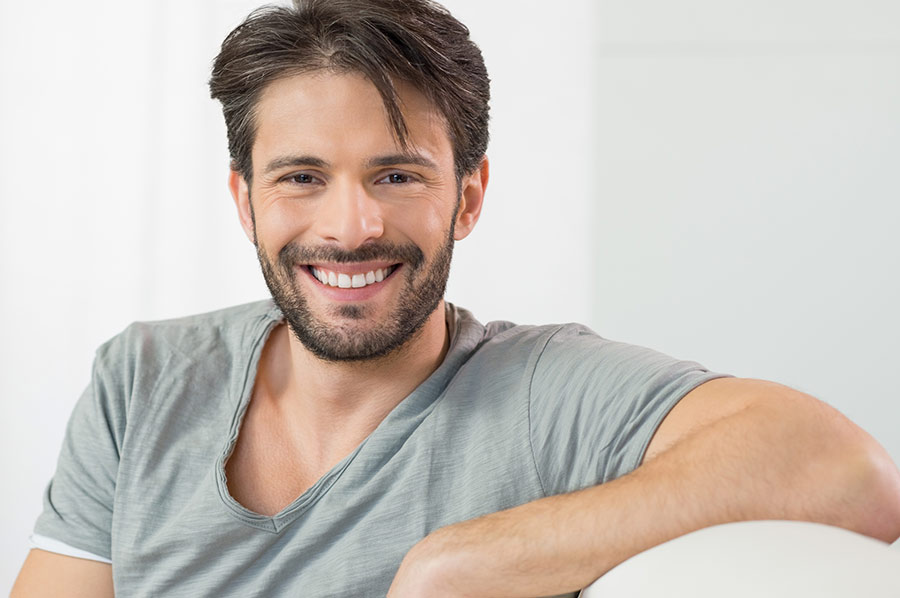 Benefits of A Torsoplasty
Results are permanent
No feeling of pain during surgery
Improved confidence and self-esteem
A more pleasing physical appearance
Risks of Torsoplasty Surgery
Liposuction is one of the safest operations, hands down! Remember, it is performed just under the skin – it does not invade any body cavity. The procedure is still surgery, however, and must be performed under the care of an expert, skilled, and experienced surgeon. Dr. Jacobs will discuss surgery risks with you during your consultation to ensure that you are well informed.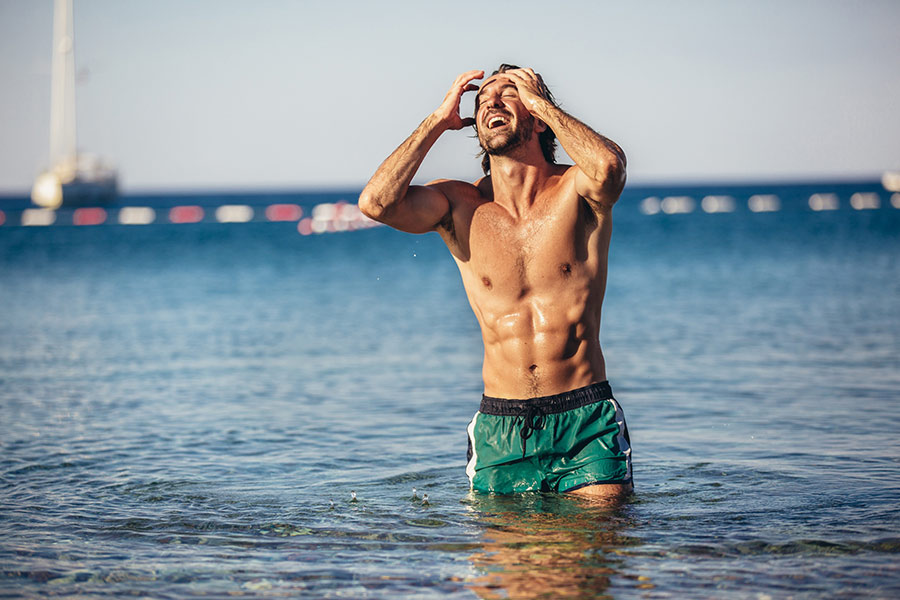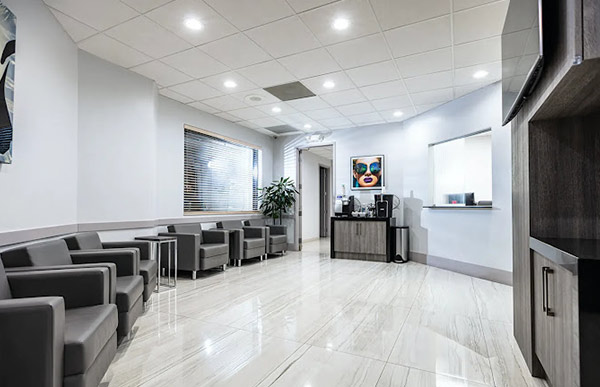 Why Choose Dr. Jacobs for Torsoplasty Surgery in Boca Raton?
Dr. Jacobs is a well-recognized expert in male surgeries and has been recognized by New York Magazine as a Best Doctor and by Castle-Connolly in Top Doctors and America's Top Doctors. Book your male torsoplasty consultation today to learn more about how his knowledge and experience can benefit you.
Contact Us
Contact Us
Reach out to Dr. Jacobs today to schedule your consultation!
Frequently Asked Questions
What type of anesthesia is used?
Your torsoplasty procedure will be performed under intravenous (I.V.) sedation, better known as "twilight anesthesia." General anesthesia is used only rarely and then only in a hospital setting. A separate MD — a board-certified anesthesiologist — will monitor your vital signs for safety and will administer small, frequent doses of a variety of medications through a vein.
The result is a gentle, relaxed sleep during your torsoplasty. There is no pain and no awareness during the procedure and you will awaken quickly and comfortably in the operating room just minutes after surgery is completed. There is usually no hangover or nausea afterward.
What should I do after torsoplasty surgery?
After surgery, drink plenty of fluids for the first 24 – 48 hours. Eat a healthy, balanced diet with lots of protein, which you will need to heal. Some additional Vitamin C and Zinc supplements are helpful. Arnica pellets (available at the doctor's office) and arnica gel can help reduce swelling and bruising.